2019 Nebraska Star Beef Holiday Shipping Schedule
Our "Standard Shipping Days" will be December 2nd, 9th and 16th. Any customers who select the "standard shipping" option on or after December 16th, your orders will be shipped on January 6th.
Between December 16th and January 6th, we will offer an "Expedited Shipping Option" for "emergency orders". We will ship these orders as rapidly as carriers allow, but there will be an additional fee that will be based on the order size and weight.
Standard Shipping will resume on January 6th, 2020
---
Shipping a frozen, perishable product requires much care and consideration.
At Nebraska Star® Beef we put a great deal of effort into producing the most consistent, premium quality Natural Angus and Natural Wagyu products possible and it is important to us that it arrives in your hands in perfect condition. We ship each order in an insulated Styrofoam cooler, which is packed with dry ice to keep the product in a deep frozen state during the entire shipping process.
All frozen products will ship on Mondays, Tuesdays, and Wednesdays – if the order is shipping to a 2 day zone or closer. (Please refer to the shipping infographic to determine the transit time of your order.) We DO NOT ship over the weekend. Orders placed Wednesday through Sunday will automatically be shipped the following Monday.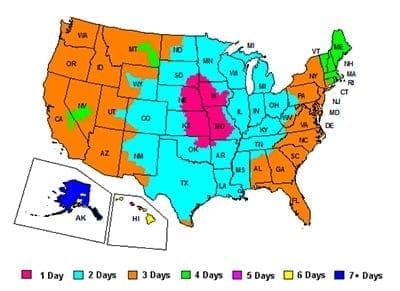 2nd Day Air or Overnight shipping provides an extra margin of safety in the spring and summer months (March through October) for shipments projected to exceed 3 days transit time. During the winter months (November through February) standard shipping works great, to include 4 day transit zones.
All orders placed before Noon (central time) on Thursdays have the option for Overnight shipping and Friday delivery.
We cannot deliver orders outside of the continental United States (lower 48), and cannot deliver to P.O. Boxes or A.P.O./F.P.O. addresses. It is important that you provide a complete street address and telephone number for shipping.
Please contact us with any questions during office ours M-F 8am-4pm CT (308) 876-2250, or email us at [email protected] We appreciate your business and welcome all feedback.