INGREDIENTS:
1 tbsp Nebraska Star® Beef SPG
1/4 stick butter (AA Unsalted)
1 large onion, chopped coarse
2 large potatoes, chopped coarse
3 carrots, chopped into approx 1" pieces
2 celery sticks, chopped into approx 1/2" pieces
8-12 mushrooms, whole
4 green onions, chopped into approx 1/4" pieces
2 cups beef broth
INSTRUCTIONS:
Set Insta-Pot to "Sauté" and add butter. When butter is melted and just beginning to caramelize, add 1 lb of Nebraska Star® Beef Loin Tips and "SPG" seasoning. Sauté until beef is golden brown and the juices have reduced and caramelized on the bottom of the pot. Add a bit of beef broth and stir to deglaze.
Close Insta-Pot and use "Soup/Stew" setting. Auto cook time will be 130 Minutes. This yields a very soft consistency on all ingredients. If you prefer your ingredients to be bit firmer, reduce the cook time accordingly.
Enjoy!!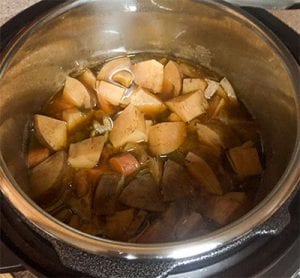 NOTES: This is a super well balanced traditional Beef Stew. The flavor is great, but not over powering. This is quintessential "comfort food". The Insta-Pot pressure cooker really does a great job of making things tender quickly. Depending on how a person likes their stew, it can even do a little too good of a job. If you're one of those who prefers a little more "toothsomeness" to your stew, it would be wise to check the stew every 30 minutes or so, until the vegetables reach the desired consistency. The next time we make this recipe, we'll be calling it "done" after 30 minutes.