INGREDIENTS:
2 quarts water
1 cup kosher salt
2 teaspoons of #1 Prague Powder (6.75% Sodium Nitrite / 93.25% Salt)
1/2 cup brown sugar
2 cinnamon sticks, broken into several pieces
2 teaspoons mustard seeds
2 teaspoons black peppercorns
20 whole cloves
20 whole allspice berries
30 whole juniper berries
5 bay leaves, crumbled
3 pounds ice
1 (8-12 pound) beef brisket, trimmed
4 small onions, quartered  (added at time of cooking)
4 large carrots, coarsely chopped (added at time of cooking)
4 stalks celery, coarsely chopped  (added at time of cooking)
DIRECTIONS:
Place the water into a large 6 to 8 quart stockpot and bring to boil.
Stir in all other ingredients except fresh vegetables. Cook over high heat until the salt and sugar have completely dissolved and remove from heat.
Remove from the heat, cool to near room temperature and add ice. Stir until the ice has melted. If some ice remains in the brine, that is just fine, it should be chilled to < 40F.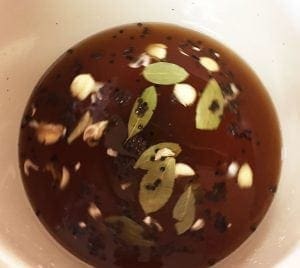 Place the brisket in a plastic container – large Tupperware container with lid, or in an enamel coated roasting pan.  Add the brine to the container making sure that the brisket is COMPLETELY SUBMERGED. DO NOT use an aluminum or exposed metal pan, this can cause the meat to take on a metallic flavor. (Cousin Steve-O learned the hard way about brining in an aluminum pan, this is how we know to use tupperware or enamel coated pans)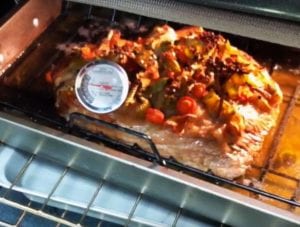 After 7-10 days, remove from the brine and rinse well under cool water. Place the brisket into a pan just large enough to hold the meat, add the onion, carrot and celery and cover with water by 1-inch. Set over high heat and bring to a boil. Reduce the heat to low, cover and gently simmer for 2 1/2 to 3 hours or until the meat is fork tender. Remove from the pot and thinly slice across the grain.