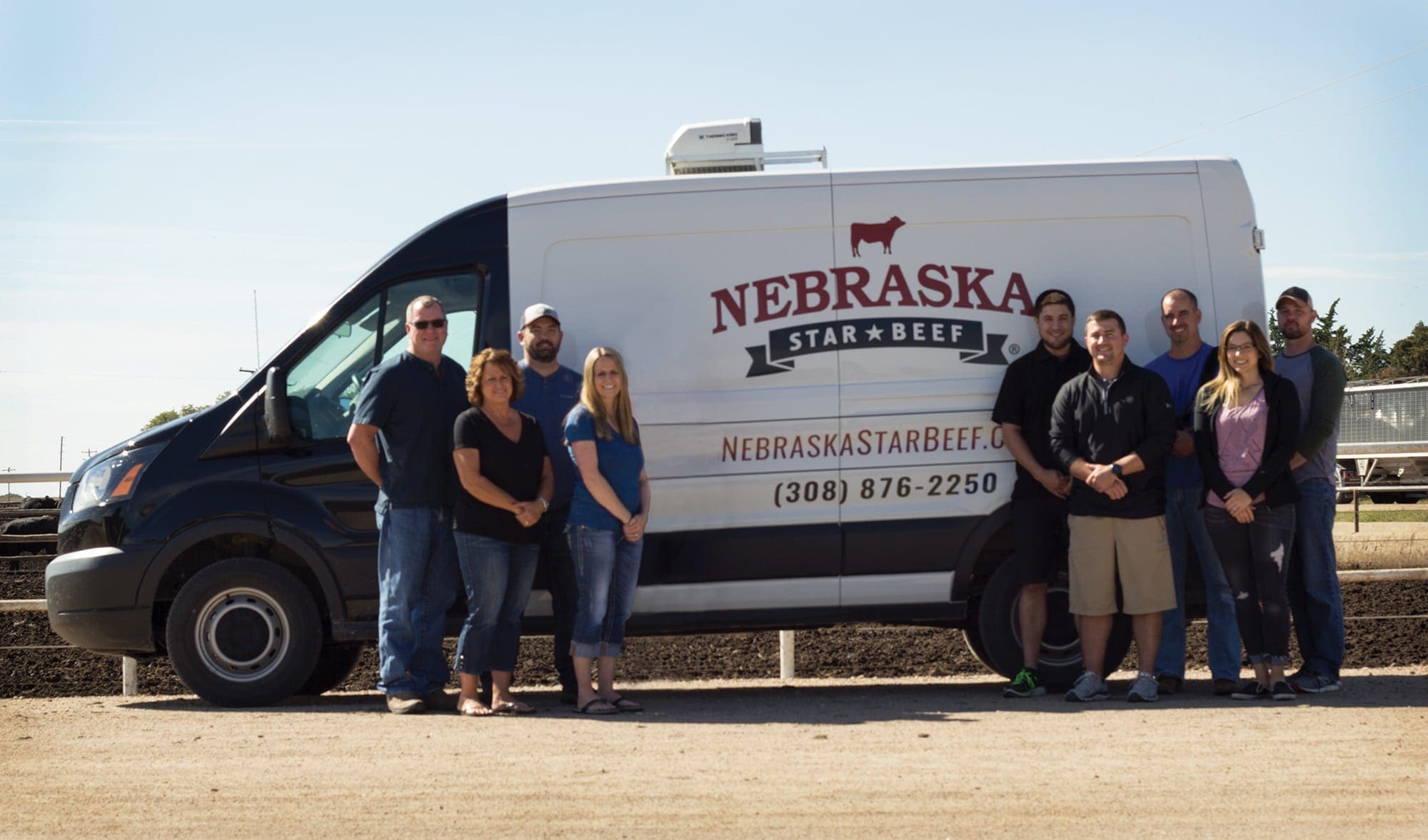 Nebraska Star® Beef and Lucky® Beef Jerky are Nebraska based, family owned and operated companies dedicated to providing the highest quality, premium angus beef. Our generations of experience and one of a kind all natural process covers every humane aspect of breeding, raising, feeding and shipping that results in an ultimate difference in taste, tenderness and overall quality of beef we produce.
We believe in providing healthy products that are made from antibiotic and hormone free beef for families. We believe in modern technology and conveniences such as online ordering with steaks arriving at your door.
Frequently Asked Questions
What makes Nebraska Star® Beef different than other online vendors?
We actually raise, harvest, age and process our own beef. When you buy beef from us, you are REALLY buying beef from us.
How does Nebraska Star® Beef differ from USDA Choice beef at the fresh counter?
NSB is more consistent. We have been eating beef we raised for over a century. We learned a long time ago that to create the best, most consistent beef the secret is "only freeze it once" Our process of aging, cutting, then flash freezing every steak, means that every steak is EXACTLY the same, EVERY time.
The fresh counter… it's good beef, but when it hits the counter, there is generally very little age on the steak cuts. The steaks age as they are on the counter… this means that the taste/texture and flavor change a little bit every day.
How do you decide what is Nebraska Star® Beef?
We work with ranchers across the northern plains – Montana, Wyoming, North Dakota, South Dakota, and Nebraska to source the best Angus/Angus cross cattle we can find. We finish them to market weight with a combination of steam flaked corn, which increases the digestibility of the corn and helps the cattle use the energy in the corn more efficiently. This is also the foundation of our trademark flavor.
How do you KNOW that your beef is yours? Don't they all get run into pens and mixed up at the packing plant?
We don't use just any packing plant. We work with a small, local, family owned butcher shop to harvest and package our beef. We drive the cattle there ourselves. Once harvested, we hang the halves to age the beef – the old fashioned way. When the beef has aged properly, their expert butchers cut it into our steaks, package it in heavy cryovac packaging and flash freeze.
Does any of the beef not "make the cut" to become Nebraska Star® Beef?
Occasionally, yes. If we have an animal that requires antibiotics, and they do from time to time, we will treat that animal to get it back to good health as quickly as we can and that animal is sold to one of our customers who deals in commodity beef.
Isn't frozen beef less desirable than fresh beef from the store/butcher?
Frozen beef has gotten a bad reputation as a lot of companies only freeze beef when they have to keep it from spoiling. We have built our frozen beef program from the ground up, our beef is intended to be frozen. Freezing also allows us to produce a more consistent product by giving us the ability to age EVERY steak EXACTLY the same EVERY time, then cut and flash freeze until the customer thaws it for cooking. Our frozen beef won't leave a bad taste in your mouth, we guarantee it.
Who is Nebraska Star® Beef?
Nebraska Star® Beef is owned and operated by the Klute family from Kearney Nebraska. The employees of Nebraska Star® Beef are all members of the Klute family, with the exception of 2. We have been raising corn and cattle in Nebraska for 4 generations – we are family farmers.
DALE
The Boss. Additionally, he co-owns and operates the cattle and commodity trading arms of the business.
JOE
Dale's son and co-owner – makes sure that the cattle get treated right and hand selects the cattle that go into the Nebraska Star Beef program.
KAYLA
Kayla wears a lot of hats for Nebraska Star Beef and Lucky Beef Jerky and wears them well. From purchasing to scheduling producing and making sure Quickbooks is always accurate; Kayla helps tremendously in managing the "wake" the rest of the gang creates. When she's not at work, most of her time is spent being an awesome mother to 3 awesome kids, which include an daughter and infant twins (a boy and a girl). All of us are pretty sure that her husband Ted should be canonized for his bravery.
CHANDLER
Dale's youngest son, handles all shipping & receiving and helps with inventory management, the family owned restaurants and handles all of our collegiate sales accounts.  When he's not at the office it's a safe bet he's either in a boat, blind, bleachers.
STEVE
Black Sheep cousin/nephew, mad scientist, product development, copy writer, and sales & marketing dude.  When he's not working with beef you'll find him hunting, fishing, bladesmithing and being a dad.
DAN
Dale's little brother and uncle to all the aforementioned, Dan handles key accounts  and sales.  Dan also owns and operates a restaurant in Hampton NE.  When he's off, he's usually grilling killer burgers & cracking a cold ones for happy customers at his restaurant and hanging out with his kids and grandkids.
JAYSIE
Non family member #1.  That said, we would adopt and/or clone Jaysie if we could.  If you like how everything looks in the catalogs and on the websites – she is 100% responsible for all the graphic awesomeness, as well as being heavily involved with marketing and sales.  When she's not working you can find Jaysie walking her beagle, Otto, or painting abstract art.
NATE
Non family member #2.  Keeps the website fresh, clean and easy to find – SEO and such, in addition to blogs, and all things inter web related.   Like the rest of the team, Nate also functions in a sales role.  When not working, it's a safe bet you'll find him hunting, fishing our pounding on knife steel and being a dad.  (yep, he and Steve are pals)
JORDAN
Jordan Sanchez is one of the most recent additions to the NSB team. Jordan has a background in accounting and a wicked sense of humor, he is our comic relief as well as very efficient in providing us with the "numbers" data that we need to keep the ship moving full steam ahead. When he's not at work Jordan enjoys running and spending time with his family.
Angus Burgers & Shakes
421 W. Talmadge St.  |  Kearney, NE 68845  |  308-455-6218
NEW LOCATION!
10177 S. 168th Ave.  |  Omaha, NE 68136  |  402-401-6613
AngusBurgersandShakes.com
Sozo American Cuisine
110 S. 2nd Ave.  |  Kearney, NE 68847  |  308-455-3444
SozoKearney.com